I can't believe how long it's been since I  truly posted! The post  was important because it served as a reminder that though things are good I'm allowed to feel tired and I don't need to be perfect.
Shortly after posting that I took a mini break from all social media. While my plan hadn't been to take a break from blogging unfortunately I did do that as well. While the break was needed the delay in blogging was also because I try to make this my mantra: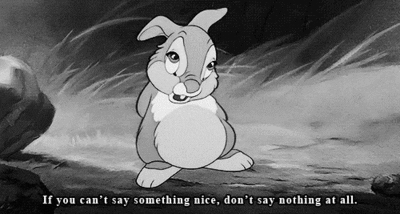 I've found myself overly critical of people and as this is a blog about trusting myself and being open I wanted to protect this space from negativity.
Good news: I'm back!
I'm a bit emotionally battered as we've had two deaths in our circle in less than a week. While both deaths were from natural causes they've opened up some difficult conversations between us.
We're contemplating the mortality of our own parents as well as have recently made a date to document our plans in the event of our own demise. Not really the sort of thing that makes you feel the joy of the season!
On the brighter side: ML & I are taking a week off together before Christmas. The Plan: nothing. Not a darn thing! We're going to spend the time relaxing with each other and ending 2016 positively.
How has your month been?